Topic 1: Japanese Tea Ceremony (Chanoyu / Sado)
Chanoyu / Sado is a Japanese ceremonial event, which involves preparing and tasting powdered green tea and Matcha. It is not just drinking tea but it represents comprehensive Japanese art from the decoration of a tearoom, the beauty of the Chaki (Tea utensils) to the manners. Chanoyu / Sado may be thought to be one of the accomplishments of a cultured woman. In fact, it has spread and evolved by samurai.
Harusato Matudaira (called himself Fumai Matudaira), who was the lord of Matsue Domain in Izumo Province, where our company located in, during the Edo period, one of the Chanoyu lovers. He established Fumai-ryu and many Chagashi, Japanese sweets to eat with tea, have produced under the Matsue castle.
Still now Japanese loves Chanoyu / Sado as a part of the tea culture.
Chanoyu / Sado might seems too difficult to do but we can start from tasting the tea.
Matsue and Izumo have the facility to experience Tea Ceremony for free. We recommend that you come by for your visit to Japan.
Topic 2: City of an Ironmonger, Japanese Traditional Tsubame-Sanjo Craftsmanship
Tsubame-Sanjo Niigata Prefecture has flourished as manufacturing town.
It has the top quality of kitchen wear such as spoon, fork, cutlery and knife, hot pot and pan. It has established it's high-quality bland as "Made in TSUBAME"
Among other excellences, we introduce YOSHIKAWA's butter knife and Yukihiranabe (aluminum Saucepan).
Butter Knife 1000 JPY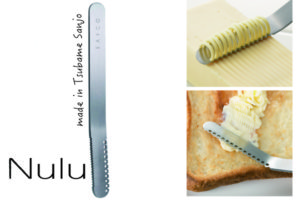 You will be amazed how the unique shape is designed to cut hard butter with the small holes and blade smoothly. You can use the blade edge scrapes burned part.
The small amaze can make your life significantly more enjoyable.
How about starting off your morning with the lovely butter and bread?
Yukihiranabe 2400 JPY~
One more excellence to introduce you today is Yukihiranabe. It is one of the representative cooking tools in Japan.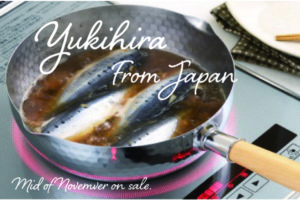 This is suitable for making Dashi, Misosoup and Nimono dish (cooked food).
The form and the texture are designed specifically.
On the inside there is a measure and spout on both side, which make it easy to pour regardless of one's dominant arm.
YOSHIKAWA's products we introduced has the purpose, the one we share, to provide richness in mind or improvement of quality of life. We assure you that you will find the valued quality in YOSHIKAWA's products.
Please inquire us for purchasing butter knife.
Yukihiranabe is available at department store in all parts of Japan.
Topic 3: The reason why ECI is chosen

We analyzed the reason to be chosen worldwide among the others.
Product
Japanese quality and items produced for Japanese market.
Wide variety of 20 thousand SKU.
Newly arrived items 100 introduced every week.
Not only 100yen items but also expensive products to choose from.
ECI selects the best sold items.
We handle alcohol and NB bland.
Order
Speedy response from order to shipment.
Handles your customers' order and required items.
Accept order from small lots such as 1 SKU and one box.
We also take big quantity of order.
Our product is all Japanese quality made.
We update and introduce new items' information every week.
We select best selling items to provide.
Support
We give you the support step by step so that you can start your shop without concerns.
(For example, layout of your store, arrangement of the products display, arrangement of furniture, selecting products and instruction of products display etc.)
We correspond to transporting regulation each country (preparing labels).
We support you with booking ship and customs clearance when to ship your ordered items.
Easy to make an order with digital Order Tool.
When you have more than one store we ship products for each store individually for your convenience.
We put description what is inside the ordered boxes so that it would be easy to see.
You can check the packing condition and the occupation rate.
We provides the movie which shows how the process of stuffing and packing is done with care.
Topic 4: Newly arrived items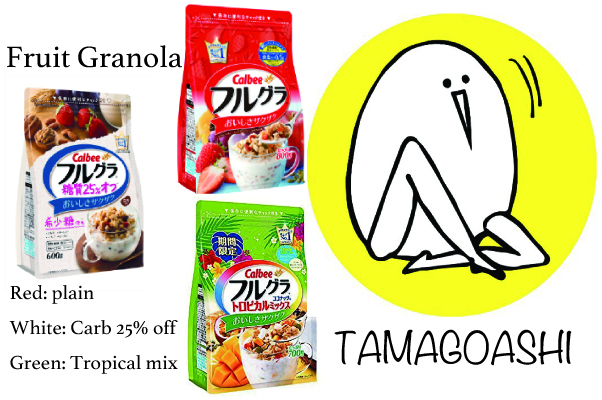 Calbee Fruits Granola
Fruits Granola 25% off carb 600g
Fruits Granola tropical coconut taste 700g
Egg leg goods