Topic 1
Every May 5th is a children's day. This is a holiday wishing for the growth of children, but it is originated from the festival of boys that celebrates the growth of them.
It is said that it was in the middle of the Edo period that it began to make "Sarp Streamers" at Childers's festival.
Japanese and those familiar with Japan think that you know the word "Carp Waterfall Climb".
There was a dangerous waterfall where torrent flowed in the middle of the Yellow River in China, which was called "Ryumon." This is an old tale of carp climbing up the waterfall and become a dragon while various kinds of fish go downstream.
From this tale, it seems that the carp was regarded as a symbol of a success in life. It has been told that carp is displayed as a "Carp Streamer" for the reason of the strength of the carp climbing the waterfall vigorously but in fact it has began to widely inform the world the pleasure of birth of a boy.
Even now, most of families with a boy, they wish for a boy growing healthy with displaying Carp Streamers outside and a May Doll in a house.
Topic 2

Just in late April to early May, Japan will be a holiday rush, depending on the company there will be a long holiday for over a week.
The weather is nice to spend during this period, and many people go out to travel in and out of Japan and sightseeing spots are full of people. During this holiday, events are held in various places so we will introduce the spots of recommendation.
Recommended spots >>Showa Memorial Park (Tokyo), Hitsujiyama Park (Saitama), Universal Studios Japan (Osaka), Tsunoshima Oohashi (Yamaguchi), Yakushima (Kagoshima)
Topic3

Hello!!! I'm Ayaka Matsumoto with Overseas Department in ECI. I currently live in Osaka and I work at the Osaka office.
What I like is listening to music, traveling and coffee. I often go out to Universal Studios Japan with my friends on holidays. The picture is me and my friend at Universal Studios Japan!
I like music and go to live sometimes. I went to the live, a band of ONE OK ROCK the other day! It was very exciting and the best performance. If you have a chance, please listen to their CD by all means. My recommendation is the album of "Ambitions" yellow jacket. It's really cool.
Also, I enjoy traveling and finding a delicious coffee shop the place I visit. I used to live in Vancouver for a short time. I have been to a cake shop called "Cheesecake Etc" with cafe latte and cheesecake. Both cake and coffee is the best in my life. It is one of my memorial shop and I definitely want to go again.
I want to travel somewhere on this year, but I haven't decided the place to go yet. So I'm very glad if you tell me your recommended place.
Topic4 : New Arrival
1. Smile design potteries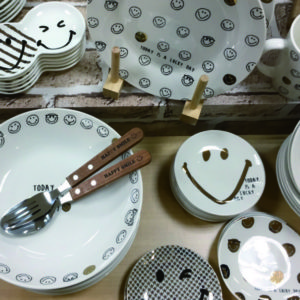 2. Retro motif Notes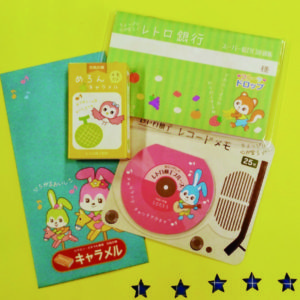 3. Soap