Topic 1
February 14th is Valentine's Day.
As introduced in the January issue, it is custom in Japan to offer chocolates mainly from women to men.
March 14th is "White Day", it is said to be the day to return a gift from men to women.
It is an event originated in Japan in the latter half of the 20th century, but recently it seems to spread to other countries in East Asia such as China, Korea and so on.
In return for Valentine's Day gift, generally men give sweets such as candy, marshmallows, white chocolate, but in Japan many women prefer to have heartfelt gift other than sweets as gift.
As White Day approaches, the town will be filled with the air and men will go to the shop to buy gifts.
After the happiness of receiving chocolate there might be followed by the pressure to fulfill expectations for White Day.
April in Japan, men might be under a great pressure of returning fine gifts?!
Topic 2

Do you know that we have ECI corporate web site?
We introduce our recommending items here.
ECI Corporate site / Product information page
http://eci-japan.com/en/products/
Currently, we have been posting three category (Cosmetic, Kitchen, Food) of Japan made item.
For example, in Food category
Japanese whiskey, which is high rarity value "SUNTORY whiskey Yamazaki 12 years"
We introduce 'Inoue soy sauce' etc. which is brewed by traditional methods in Okuizumo in Shimane prefecture.
Since we collect the products that you can feel the high quality of Japanese made, please have a look.
We are also waiting for inquiries about products.
Finally, ECI corporate site has uploaded past articles of mail magazine.
Since you can see the back number at once, you can also read the first one to see from the volume 1!
Your favorite articles and requests for topics are greatly appreciated!
Please feel free to tell us anytime!
Topic 3

We are ECI overseas business department.
Let us introduce one of our staff, Aoi Kawaguchi of the Osaka office.
Hi! I am Aoi Kawaguchi (Aoi) in charge of overseas.
I am 24-year-old. My hometown is in Hyogo Prefecture.
My hobby is traveling and I have been on a trip abroad several times.
It feels refreshing to be in a different environment.
Wherever I go I will find something surprising and interesting, and it stimulates my curiosity and I'll be more interested in the culture.
The new stimulation is always my favorite things about traveling.
Do you also like to travel? If so, come to visit Japan and discover something new about our culture.
What I like to do in my free time is making earrings.
During holidays, sometimes I spend 3 hours with my older sister looking for earrings parts.
It is enjoyable to arrange in the way you want, and I would have a special attachment to it.
I am always looking forward to contacting you all.
We look forward to at any time!
Topic4 : New Arrival
Mug cup for baby / color Pink
Cooler tote bag Check design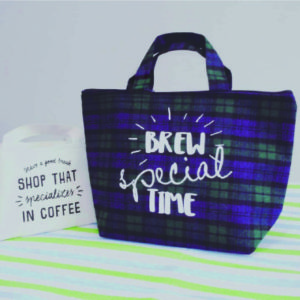 Storage box for cosmetics / Antique white