Topic 1: New Year's Day
What comes to your mind when you think of New Year's Day?
In Japan, during New Year 's Eve and New Year' s Day, family members gather together and welcome the New Year. In the New Year, people eat a traditional New Year's celebration dish called "Osechi". "Osechi" refers to several good luck foods in a square food box. Each dish has a special meaning such as, longevity, descendant prosperity, sound health, prays for promotion. It is the Japanese style to eat good luck food with family as wishing each other's happiness for New Year.
After the meal, it is a tradition to visit a shrine and express gratitude for the previous year and greet for the New Year. As greeting finishes, people tell fortunes for the New Year with "Omikuji" meaning "sacred lot" which is unique to Shinto shrines and Buddhist temples. They also enjoy talking about the results to family and friends.
We recommend coming to Japan in the New Year's season and bring happiness for the New Year!
Topic 2: "Hatsu-Yume" First Dream

Have you heard of Japan's "Hatsu-Yume "?
In Japan, the dream seen on the first day or the second day of the year is called the first dream. There is a saying for the first dream "First, Mt. Fuji. Second, hawks. Third, eggplants."
Those are lucky items and said to be auspicious as you see it in your first dream of the year. It is also said that it is even better omen if you see those items in order of 1, 2 and 3 "Mt. Fuji" represents a high goal and ideal, a symbol of lifetime. "Hawk" expresses the spread of possibility and freedom of action and leads to luck and makes dream come true. "Eggplant" pronounces the same as "accomplish" in Japanese and expresses accumulated property and descendant's prosperity. Mt. Fuji is the highest and most famous mountain in Japan, hawks is associated with strength of the birds, and eggplants with accomplishing.
Have you ever seen a first dream? If you have or see it, share what your first dream was!
Topic 3: Lucky bag

The season of sale comes every year. The year-end and New Year season is said to have the highest sales in Japan.
"Lucky bag" will be sold as a popular item at the time of sale. Lucky bag is a bag where happiness is clogged. In other words, it is a very affordable set item! There is a sale shopping battle in Japan at the beginning of the year, and we sell various types of lucky bags. Apparel relation, Food etc. More and more variety of lucky bags appears every year. Among them, the major department store is popular enough to make a long line of people who eager to get lucky bags from early in the morning.
A Japanese New Year you can enjoy shopping at a non-ordinary, very affordable price. Although the comfort is undeniable when spending time inside your house, it is also fun to go shopping!
Topic 4: New arrival
Shimenawa (New Year's decoration)
Various styles for the New Year's decoration.
Perfect for entrance/room decoration.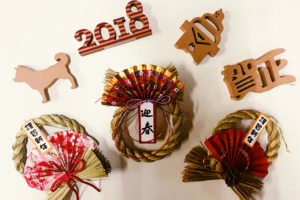 Izumo Murasaki Soy sauce
It was manufactured keeping the traditional method of re-charging, which was transmitted to Chugoku district from the Edo period.
Twice brewing and took a long aging period to make this special sauce. Perfect for sashimi and as an essence of cooking regardless of food genre.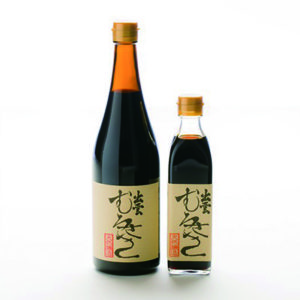 Honkaku shochu (Authentic Japanese spirits), based on collaboration between Uji Sencha "Kikuchiyama" and Kyoto Fushimi's brewery "Tano Hikari".
Immersed tea leaves thoroughly in shochu, bottled as it is.
Enjoy drinking with a refreshing soda or on the rocks to taste thick umami and fragrance.