Topic1:Shokuyoku-no Aki
"Shokuyoku-no Aki" means autumn appetite in Japanese.
It is a harvesting season and people regain their appetite after hot summer. In autumn, we can enjoy seasonal food such as saury, chestnuts matsutake mushroom sweet potato.
Those foods are on the market through out the year, but it is no better to eat it when it is on the best season.
Now let us introduce easy recipe to satisfy your autumn appetite!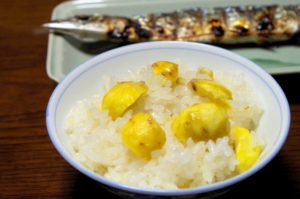 KURI-GOHAN rice cooked with chestnuts
Mix other ingredients into rice is one of the popular cooking methods.
Just add chestnuts to rice and taste of autumn.
Ingredients
Rice 300g
Chestnuts 200g
Salt one teaspoon
Sake one tablespoon
Cooking methods
(Rice cooker)
Heat chestnuts in the hot pot with water until it gets boiled and three more minutes with a medium flame. Make a cut into chestnuts and peel the skin. Cut them into half or one quarter sizes.
Wash rice with water. Cook rice with seasoning.
Mix the cooked rice and finish!
(Cook rice with hot pot)
Wash rice with water 2~3 times changing the water and leave it into water for an hour.
Strain the water and put it into the pot and add 450ml water. As a final process add seasoning and cook it for 5 minutes. After it boiled, keep it 5 to 7 minutes. Leave and steam it for 10 minutes.
Enjoy your Japanese autumn tastes with KURI-GOHAN!
Topic2:Seishun 18 Kippu

Did you know there is a trail ticket called Seishun 18 Kippu?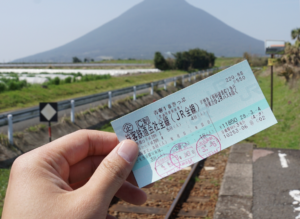 In Japan, there are many sightseeing places and it also would cost you if you travel all places. But there is a perfect train ticket for you to travel around and that is the Seishun 18 Kippu. With this ticket, you can use any local train of Japan Railway (JR) in Japan for 5 days!
This was made for students to enjoy their visit to Japan without worry spending too much money and make the most of their long vacation. Do not get disappointed even if you are not student since there is no age limits to use and it is for everyone.
For your information, this tickets available period of time is determined every year.
When using be sure to check JR website. They offer it with 11,850 JPY.
Also there is another ticket, which is for tourist who only has limited time and can use any Shinkansen, called JAPAN RAIL PLAN.
This is available for 7 days for 29,110JPY (need to apply.) We recommend Seishun 18 Kippu for people who desire to travel within certain areas and JAPAN RAIL PLAN for people who travel around Japan.
How about train trip for your next Japan travel.
Topic3:New Arrival
Whiskey HIBIKI
Depending on the vintage year, the number is limited.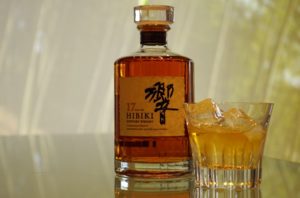 Yahan no Midori
It is plum wine using Matcha in Kyoto.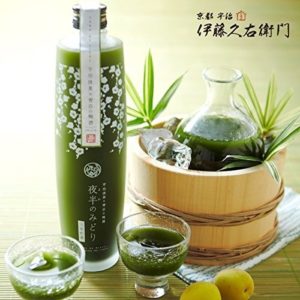 Healthy Foods and Drinks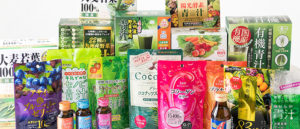 Next news letter on October will introduce Niigata Tsubame-sanjo's "Monozukuri". Don't miss it!